TI Effortless Endurance Freestyle Workshop
£225.00
TI Effortless Endurance Freestyle Workshop
From: Sunday 21st February 2021 0930-17.30 (postponed due to the current National Lockdown, a new date will be confirmed once restrictions are lifted)
Venue: Bancroft's School, Woodford Green, Essex, IG8 0RG.
Accessibility: Accessible by public transport.
Parking: Parking available
2 in stock
Description
Contact:
For more information please contact TI Coach Susan Cheshire at swim@susancheshire.co.uk
YOUR COACH:
Workshop Director and Level 3 Total Immersion Coach and ASA trained Susan Cheshire.
Susan has a competitive swimming background. As Head of Swimming at Bancroft's School, Susan has implemented TI into the PE curriculum. Susan has a wealth of experience and a passion for swimming working with all levels of swimmer who are keen to improve and achieve their goals both in the pool and open water.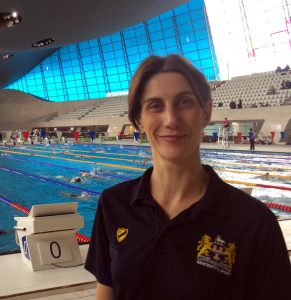 DESCRIPTION:
To allow for social distancing this intimate workshop for four swimmers is appropriate for people who can swim at least 50m or more of Front crawl. The day comprises four hours pool time with exclusive use of the swimming pool, split into two sessions, plus three hours presentation of swim theory with video analysis. You will also receive links to full detailed video analysis and commentary that you can review after the event.  
LEVEL 1 :
Effortless Endurance teaches the TI foundation drills and skills to correct stroke faults and habits that keep athletes from swimming smoothly without effort. We'll address the main energy-wasters; sinking, instability and drag. Reducing energy waste will bring an immediate and dramatic improvement in your ability to swim any distance or speed with ease.
Cooperate with Gravity – Become 'weightless' by learning to co-operate with gravity instead of fighting it.
Take the Path of Least Resistance – Learn to move through the water, rather than move water around by streamlining your body.
Whole Body Propulsion – Replace muscular force and churning limbs with effortless power by connecting arm and leg actions to rhythmic, relaxed weight shifts initiated in the core, directing 'available' forces of body mass and gravity to swim with your whole body.
Breathe Easy – We'll also teach you about breathing easily as you swim. No more breathlessness, no worries about choking. The air is free, take all you need.
Who should take this workshop?
New swimmers who want to develop great habits
Self-coached swimmers who would like expert assessment and advice
Triathletes looking to improve their stroke and use less energy and improve their swim times using less effort
Open Water swimmers looking to improve their stroke and make it more efficient
What will you learn?
During the workshop you'll learn the three foundation skills of effortless distance swimming:
Balance and Stability: Become 'weightless' by learning to cooperate with gravity instead of fighting it. Learning balance transforms struggle into smoothness and calms churning legs. It also brings the body control and mental calm necessary to learn every skill that follows.
Sleek and Slippery: Learn to move through water, rather than move it around, by shaping your body to be longer, better aligned, more hydrodynamic; and Stroking in ways that minimize waves and turbulence. Slippery swimming means that you travel farther and easier on each stroke.
Whole Body Propulsion: Propel yourself with effortless power by connecting arm and leg actions to rhythmic, relaxed weight shifts initiated in the core. Instead of generating muscular force you'll direct 'available' forces of body mass and gravity.
This workshop is recommended for those who can swim 50 meters or more of crawl stroke or who have studied TI skills previously via DVD. The workshop includes expert instruction, individualized feedback and video analysis.
What will you take away?
The tools to work on a transformed stroke that will let you swim from a mile to a marathon . . . and feel energized afterward
The knowledge and awareness to begin a path of continuous improvement (we call it Kaizen) that can continue for decades. You'll enjoy swimming as never before. And the more you enjoy, the more you'll practice and the more you'll improve.
SCHEDULE: 09:30 – 17:30
WHAT TO BRING:
For the classroom: A pen/notebook or your favorite note taking device.
For the pool: An extra suit & towel if you want dry ones for the afternoon swim, a swim cap (one will be provided), an extra pair of goggles. We recommend that male students wear a Speedo-type brief or close-fitting triathlon swim shorts, rather than loose-fitting swim trunks, which can make balance even more of a challenge. Something warm to wear after the swim and a thermal swim shirt if you tend to get cold in the water. A water bottle and light lunch and/or snacks.
CANCELLATION POLICY:
No refund will be issued for cancellations made less than 2 weeks prior to the start of the scheduled workshop. Bookings cancelled less than two weeks before this event can be transferred to future workshops only if the place can be filled by somebody else.
Additional information
| | |
| --- | --- |
| From | TBC |
| Venue | Bancroft's School, Woodford Green, Essex, IG8 0RG. |
| Accessibility | Accessible by public transport. |
| Parking | Parking available |