School swimming – learning for life
"Learning is a treasure that will follow its owner everywhere." – Chinese Proverb
For the pupils at Bancroft's my hope is their experience has not only been enjoyable, but one that allows them to pick up their swimming skills whenever they want to beyond school and well into adulthood.
As adults we often take up swimming after a long break, maybe not since our school days and  may find we have a technique or understanding of swimming that limits our real potential in the water.
Over my twelve years at Bancroft's I have shared many wonderful journeys with the pupils.  Tom, aged 18 is leaving school this year, from lessons to the London triathlon this is his school swimming experience.
What is your swimming background and experience?
I have swum all my life but didn't really love it until I started to swim at school. I have swum at school with Susan for the past 5 years and then started open water swimming about 2 years ago, which Susan also encouraged me to do.
What was your motivation for improving your technique?
At first, I wanted to compete for school. Then as I got better I looked to do more endurance racing and being able to stay in the water for a long time but come out feeling relaxed and easy. This then pushed me to try harder in my sessions and work at my technique even more.
How have lessons improved your swimming?
I have been able to feel a lot more relaxed in the water. I have been able to learn how to use my whole body to move forward, not just my arms and legs like before. After my time with Susan, I have been able to swim for longer and further but still feel relaxed afterwards. The lessons have given me a new perspective on how to swim and how it shouldn't be a drag but relatively easy.
What do you like about the lessons and what's a challenge?
Susan's motto of 'swimming is a science' has really made me think about swimming in a different way. It made me approach it ready to think and really notice what I was feeling during the sessions. This was and still is a challenge as staying focused for that long is really hard, but it has been one of my favourite parts. This is because once you notice it, you can start to change and apply new techniques. which really make swimming more enjoyable.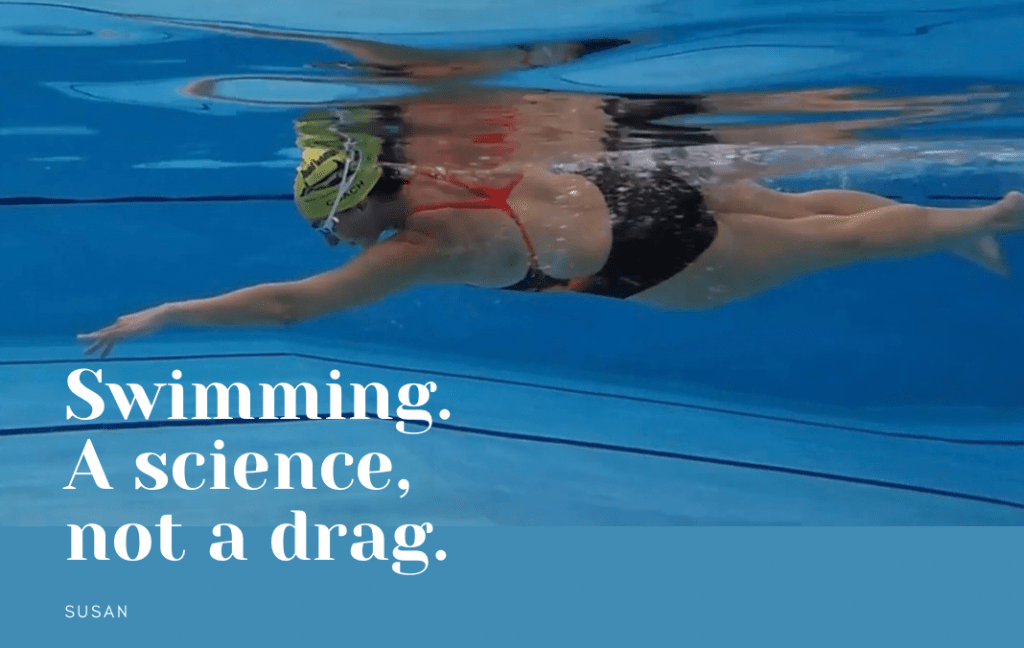 What is your proudest swimming achievement?
When I came out first of my swim wave at the London triathlon in a time of 24:30 (1500m), my first Olympic distance and placed second in my age group overall.
Are you training for anything at the moment?
At the moment, I am training for future triathlons going into the summer and next year, hoping to improve on my times and how I feel coming out the water.
Funniest swimming moment?
At the end of open water season, we were able to go on an aqua bounce area as we had all really improved over the summer. It was just so funny and to be with everyone who I had worked so hard with over the summer was so much fun.
What are your future aspirations and dream goals?
I hope to compete in an IronMan before I am 21 and do my first half ironman next year.