Continuous Improvement
During the Coronavirus outbreak there came the point when the pools shut and coaching and teaching ceased.  My husbands situation was rather different, the family business, a wood component manufacturer has weathered many storms and as with all well established businesses they have diversified to survive and prosper.  A phone call from Dunlop tennis racquets back in the late 70s was one such occasion, at a time when they supplied most of the wood for their racquets that one phone call was about a wonderful new product, that would revolutionise tennis Graphite.  Great for tennis, bad for business and my father-in-law went to dig his garden and to figure out what to do next. 
Fast-forward through several recessions and the business now supplies components for the door trade.  I will confess to being a terrible partner I don't show the level of the interest I should, machines and factory processes don't excite me, but I have seen my husbands dedication, research and time spent mulling over ideas and concepts to improve the manufacturing process.  As a child he would be given a technical Lego set for Christmas in the hope it would last a few days, to have it finished by lunchtime.   At the point that my work came to an abrupt halt and his parents and employees were safely at home, he received a flurry of orders, with the NHS urgently bringing forward building works due to the public health crisis.  The family business became that more than ever, a family of four and dog, who was absolutely no help whatsoever!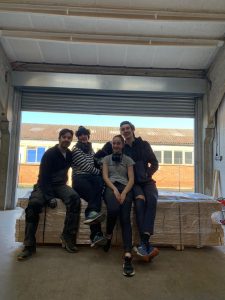 What does this have to do with a swimming blog?
 Firstly, my two children are missing their physical exercise they both training at their rowing club 4 times a week and although we have a rowing machine at home, they have missed the physical training and meeting up with their training mates.  My son particularly has felt lost during this period, like his sense of purpose has been taken away.  Being able to give this back to him while fitting in his school work has really picked up his mood and the physical nature of the factory floor has given us all a much-needed workout.
 The one aspect that crosses over both of our work is the principle of Kaizen, that change comes not from major initiatives but is part of the on-going way in which we work. 
 Kaizen originates from Japan and the word translates to mean change (kai) for the good (zen) and it teaches the importance of continuous incremental improvements, with the philosophical belief that everything can be improved, that nothing is seen as a status quo.  Continuous efforts to improve result in small, often imperceptible, changes over time.  Over the longer term these incremental changes add up to substantial changes, which can be seen in a reduction in waste, your product being more competitive and both staff and customers feeling more satisfied with a greater level of commitment.  As we make incremental improvements through problem solving we should feel more engaged in the process. 
These principles all relate back to swimming, focus on your own continual incremental improvements always aiming to leave the water a better swimmer and in time great things can be achieved.
 During this period working with him and thinking back to all the hours he has spent researching and staying behind making on-going yet subtle changes he has passionately pursued improvements in his systems and it is a credit to him that we were able to pick it up and make improvements in our own way of working.  I'll take more interest now I've seen first hand how smoothly these processes worked and that we as a family were able to get the job done and delivered  to the NHS on time.  
 It's made me think back on the swimmers journeys I have been on over the years, from where we started when we first met and how through these continuous improvements great things have been achieved.
I think they call that job satisfaction!