Development of a PE Teacher
Physical education teaches pupils skills, problem solving and an understanding of themselves and others far beyond the physical activity.
Physical Education is described as the planned, progressive teaching delivered to pupils during the school curriculum.  This involves both 'learning to move', by becoming physically competent and 'moving to learn', learning through movement.
In most swimming settings, teaching is delivered by qualified swimming teachers.  In schools fortunate to have their own pools, swimming is delivered by both specialist swimming teachers/coaches and PE teachers.
PE teachers are often games specialists (Hockey, Netball, Rugby, Cricket etc) the teaching of swimming is often minimal on degree courses and teachers can often resort to their own swimming background and experience to deliver swimming lessons.
Within any PE department there is a wealth of teaching expertise, teachers with an understanding of human movement and the acquisition and development of skill.
In my time at Bancroft's developing PE teachers in the pool and supporting them to become great swimming teachers has been incredibly rewarding.
Jemma recently joined Bancroft's and has been learning on poolside, she has recently attended one of my one day workshops and shares her experience.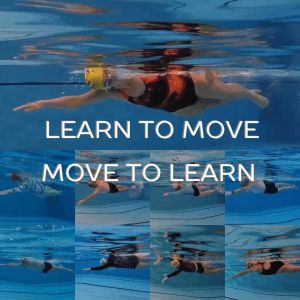 Thank you for taking the time and patience to teach me. I am a sponge when it comes to new information and I think teaching students through TI is the best way.  Mixed with science and maths it is an all-encompassing cross curricular journey that everyone should experience.
As a PE teacher what is your swimming background and experience?
Competent swimmer, taught in a state school for 7 years and use the traditional teaching using floats, alongside a swimming teacher. Enjoyed teaching swimming and being in the water.

During your teaching degree what emphasis is given to swimming?
Limited exposure during my Physical Education, Sport and Exercise Science degree and PGCE as my school didn't have a pool. I relied on my own swimming knowledge. Swimming was taught using floats and breaking up the body.
How did you feel when you arrived at Bancroft's school and observed your first few swimming lessons?
Overwhelmed! I felt like teachers were speaking a foreign language as I was unfamiliar with Total Immersion principles, values and vocabulary. I took copious notes to try and understand and had a little time in the pool with Susan to try to understand myself.
What do you like about teaching the lessons and what's a challenge?
I like it more now that I understand it. Having the workshop inset really helped solidify my knowledge and understanding. The scheme of work makes sense and alongside my notes, I feel more confident leading a session when Susan is not here. Thanks Sue! The only challenge I face it trying to better the club or more competent swimmers as I am still building my confidence in what I am looking for as the changes can be so tiny.
Has attending the one day workshop helped?
Yes definitely! As a visual and kinaesthetic learner, it was useful to experience what the children learn and how challenging it is. The brain can become overloaded with information but it does make sense when you focus. It helped me understand what Total Immersion is trying to achieve, which will impact my teaching positively. Having the video analysis was a personal journey as I am effectively relearning how to swim in a more effective way. I have never had anyone assess my swimming and I always want to learn about myself and how to improve my own technique.

Now you have done more teaching on poolside, what is your proudest achievement?
Being able to lead a swimming lesson for all age groups and being able to relay the main principles for the students. Also person achievement – I know how to better my swimming and how to be more effective with my strokes using less energy.
For your continued progress of your teaching and knowledge, what would you like from me?
More frequent swimming insets, I don't get in the water too often (unless on holiday) so it would be nice to have time to practice and perfect my own skills as well as understanding how to better others from poolside.