Half the English Channel
Swim & Tonic signed up to do swim the English Channel in 2019 as a relay team of six;  swimandtonic.org are a movement of people who connect by swimming.  For many swimmers the ability to meet outside to swim and socialise has been so important during the pandemic.  In May 2020 a team member dropped out and my friend asked if I would stand in.
I have said 'No' several times to join a relay team.   I cannot give a good reason why, I have swam open water Marathons, feel more and more comfortable swimming in 16-18 degrees and really enjoy the challenge of choppy sea conditions.  Yet when it comes to offers of the English Channel,  I just don't 'fancy it!'  After watching Sink or Swim last year where celebrities took on the English Channel, I watched their journey, which at times made for uncomfortable viewing.  Swimming for them was an incredibly emotional and physical challenge,  I have no excuses.  I said to myself then if I'm asked again I will say 'yes!' and the individuals on this relay are such a great bunch.
With English Channel attempts you are given a one week window at the start of a tide, our neap tide started on the 26th August 2020.  The previous weeks had seen glorious weather and calm waters, at the start of our window the weather had deteriorated and Storm Francis blew in.  We spent days waiting on the 'DoverCoaster' with different start times given and then put back due to bad weather.  We finally set off for our swim on Bank Holiday Monday after waiting six days to make our attempt. We set of from Dover Harbour just after 9.30pm to Samphire Hoe, where Penny Wilkin would be the first swimmer in the water to start our  attempt at 10.45pm.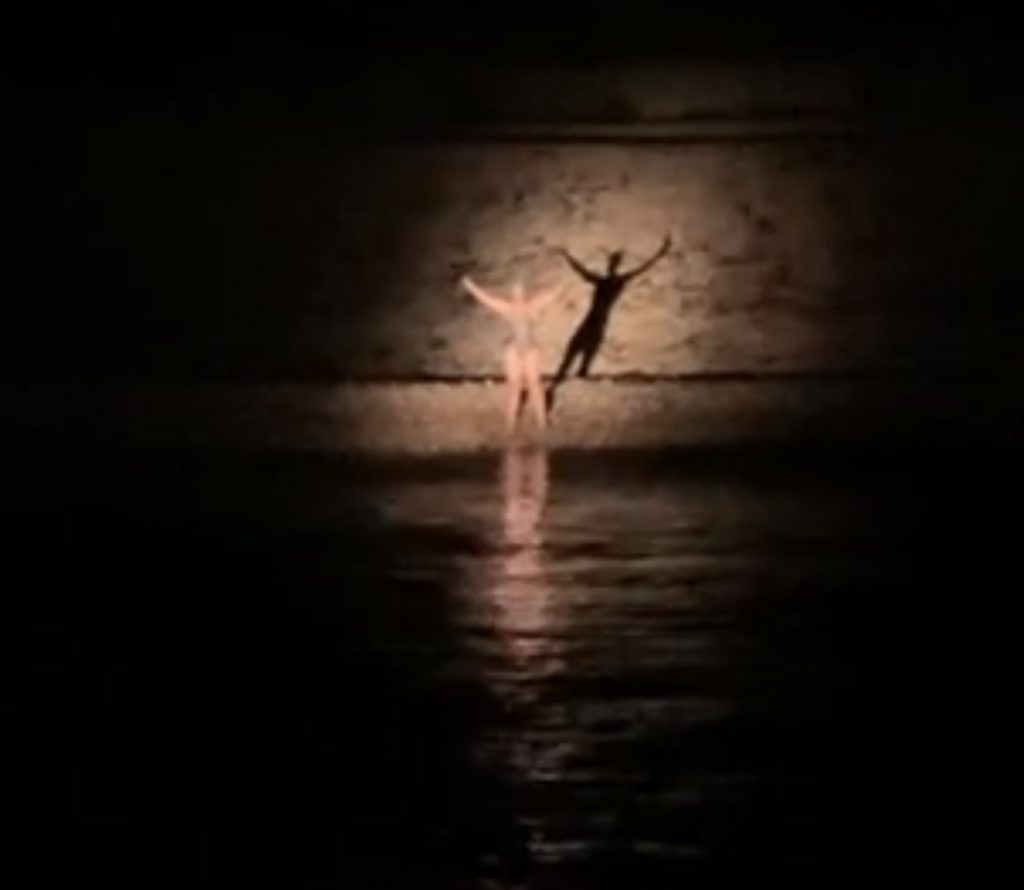 As a team of six we knew it wouldn't be easy, we had talked openly about our worries and concerns, from the change in weather, swimming in the dark to being stung by jellyfish.  Little did we know at this point, that the seasickness on board would be our biggest challenge!
The swim is completed with swimmers wearing only a standard swimming costume, hat and goggles and I was particularly concerned about the drop in overnight temperature.  We had prepared for the cold, but the air temperature was much colder than I had experienced during training and when I finally took off my towel the North wind felt so cold.
At 2.45am I jumped off the back of the boat and waited for my team mate Emma to climb back on board, safely on the boat I heard the Pilot shout  "GO GO GO!" The water was lit up by the boat at the side and I stayed close to the boat to protect me from the winds as I swam.  As I took my first couple of breaths I was hit by waves and had to spend the next few minutes trying to feel the rhythm of the water and relax into my stroke, finding my train tracks to keep me stable as the swell and waves moved me around.  I settled into my stroke and picked up my rhythm not forgetting the pilots words just before I jumped in;  'Catch up with the other boat".  The hour passed so quickly and I absolutely loved the swim, the water threw me around a little but the seasickness I had been suffering completely subsided and I would much rather have stayed in the water then get back on the boat.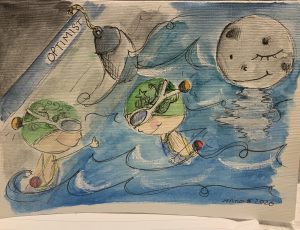 I had been for a night  swim with my coaching pals Gill and Dawn and some other swimmers as part of my preparations.   I had expected to feel a little scared of swimming in the dark and had been surprised by how much I had enjoyed it.  As I swam in the middle of the English Channel at 3am I wasn't scared, I smiled when I took my breathe to the right and saw the moon watching over me, as I took a breath to the left I could see my own reflection in the boat as I was swimming.   I asked fellow swimmer and artist Emma O"Brien to draw my memory, to remind me of the incredible determination and resilience we all have in us and can draw on for the challenges we take on or indeed the challenges that one day take us on!
The swim was a respite from the movement on board the boat, with the exception of Emma we were all blighted by terrible seasickness and after six hours and completing our first rotation of swimmers, we made the decision to head home for the safety of all on board.    Despite the team having been so ill we had made it nearly half way across the English Channel, climbing back on board after my hour the first thing I did was look for that boat, bingo I had managed to close in on it.
While I was swimming the pilot had radioed the coastguard to ask for assistance for an unlit boat of refugees that needed help.  The English Channel is known as the Mount Everest of Swims because of how challenging it is, the weather and water can be brutal and I will always remember the people in the water just ahead of me risking their lives in search of a better life.
I don't feel disappointed that we turned back and didn't reach France, our safety and wellbeing was far more important.  Our boat was called Optimist and this photo from teammate Mel, says it perfectly.
I do feel something incredible from having taken myself out of my comfort zone.   There is an expression that Life begins at the end of your Comfort Zone.
I have learnt a lot during the past few months, I am far braver, stronger and more resilient than I realised. Ask me if I will try again….
Oh Yeah!