The journey from Anxious to IronMan
What is your swimming background and experience?
Rather bad experience with school swimming instructor as a kid. He was rude which didn't help getting comfortable in the water nor to learn to swim.
Got to a level of doggie paddle / breast stroke with head above water, but never enjoyed swimming and found water, specially open water, threatening (a diving incident didn't help either), and thus I avoided it. (Many holidays at the sea when I never went into the water.)
In my late forties I started triathlon, so I better had to start to learn how to swim properly! I took lessons with three different instructors over two years and made some progress: got that head under water 🙂 and learned basic crawl stroke. Despite making some progress (finishing a couple of short distance sprint triathlons incl. a 750m swim in open water, one of them with back stroke… but I finished!),
I still struggled with getting exhausted and kept feeling uncomfortable in the water. The latent panic always loomed somewhere in the background, and I thought water is just not my element.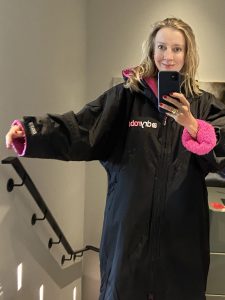 What was your motivation for improving your technique?
Two things:
1) I enjoyed triathlon and needed to improve my swimming, if I wanted to go ahead with it. I had to get to being comfortable in the water, and be able to swim longer distances.
2) I just wanted to show myself that I could learn it – I had made good progress in running despite starting really late in life, and giving up on the swimming was not an option. I can be quite stubborn!
What led you to Total Immersion and/or Susan?
First time I read about TI from a triathlon blogger (a guy called Triathlon Taren) online. Doing some research, I read they had been successful teaching people of all ages and focused on endurance, so I thought that could be for me.
I watched some of the online TI videos, but felt self-teaching was difficult and thus searched for a teacher in London, where I live.
A google search for TI instructors then led me to Susan – a swimming-life changing moment, as it turned out!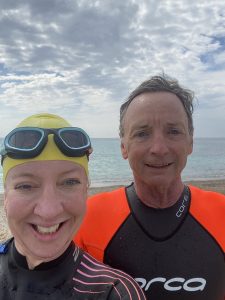 How did you feel about coming to your first lesson?
With Susan's busy teaching schedule and my somewhat over-ambitious goal of getting my swim fixed in a few weeks for an Olympic triathlon (1500m lake swim), I had only one lesson before that triathlon. I liked Susan instantly, and was impressed by her teaching skills. She radiates calm, which was the opposite of my feelings associated with swimming and water, and it somehow transcended to me.
Unsurprisingly, one lesson was not enough to tackle all my issues, and so the Olympic swim ended in a DQF (as in "disqualified" – which is what you get, when you have the rescue boat pull you out of the water after some 50m because you panic…).
The good thing about this, though, was that now I really wanted to do whatever it took to be able to swim 1500m in one go. If so many others of all fitness levels seemed to be able to do it, the I could do it, too!
So I went back to Susan and booked my next ten lessons. The rest is (for me personally very successful) history 🙂
(Susan, I still wonder if you thought you'd see me back after our first lesson!?)
How have lessons improved your swimming?
A complete game changer!
I learned to swim without getting exhausted, which is the key to everything else.
I no longer feel uncomfortable, near panic (even in choppy open water and unpleasant conditions) or exhausted, and can focus on other parts of technique and keep on swimming for an hour without tiring.
My technique has also improved (or rather changed) significantly.
What do you like about the lessons and what's a challenge?
Susan's teaching methodology works wonders for me. The TI philosophy of floating, streamlining and propulsion makes sense (I'm the kind of person who wants to understand the rationale) and it works.
Susan has the great skill of explaining things in many different ways, until I grasp it. She's calm, personable, and motivating.
Also "how does a correct movement feel for me" has been key to get the movements become engrained in my brain. (As opposed to an other instructor, who believed all my problems would be solved it I breathed every 4 strokes… well, didn't work, got me gasping even more).
Her teaching method of focusing on a few things at a time, and adapting her teaching methods to the student, as well as her excellent written follow ups after each lesson.
They, and the related film footage are incredibly helpful, and she's very responsive also outside lessons which is great.
Challenges: the temperature in the pool at London Bridge… (until I discovered there is a sauna!) and having to book long in advance.
Of course it takes practice outside the lessons, but that has paid out greatly.
What is your proudest swimming related achievement?
Finishing the 1500m swim of the Olympic triathlon ten months after the first one where I got asked to be pulled out just after the start.
Best of it was that I felt good, not exhausted and was in great shape to continue to the bike and run. I had conquered my swimming demons.
And: I have come to really enjoy swimming, which, I never expected to happen.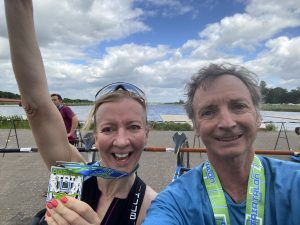 Are you training for anything at the moment?
Yep: Half Iron Man 70.3 with 1900m open water sea swim. Gotta set those goals high!
…and, after a summer of extensive open water swimming, I do believe that I can do it.
That would have been completely inconceivable just six months ago.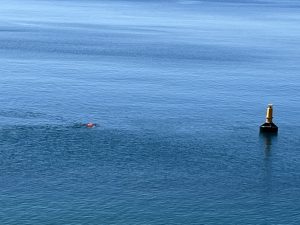 Funniest swimming moment?
Maybe not so funny, but surprising: Once after swim training in the pool, another swimmer complimented me on what she called my "poetic" swimming style!
What are your future aspirations and dream goals?
The immediate one is the half iron man 70.3. in four weeks time. It will be crowded, open sea, and a challenge, and I believe I can do it. Crossing that finish line will feel great!
Beyond that, I'd like to improve on speed and keep swimming, and getting more comfortable also in adverse conditions. And to learn to breath to both sides!
There will be more triathlons of various distances, so let's see what is possible!
UPDATE:  Minka completed Ironman Italy 70.3 in 6 hours 57 (target was 7 hours) on 18th September 2022.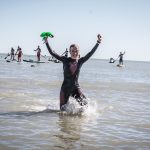 One Year On:
Minka finished her second half Ironman on 22nd October 2023 in Athens and had her first really good race sea swim in choppy water.   seven minute PB on her swim leg from last year and was absolutely over the moon.  (45 mins for 1.9km in choppy sea swim)