Luxborough Lakes
Luxborough Lake runs alongside the River Roding on the border between Buckhurst Hill and Chigwell, just around the corner from Bancroft's School.
This beautiful lake has remained closed to the public for over twenty years and re-opened to the public this summer.  The building of the M11 motorway created the quarry and there is still a digger 86 feet down at the bottom!
Having taken the Bancroft's pupils on their first SwimTrek adventure to Montenegro back in 2019, I was really keen to get them involved with this local open water facility.  BeEndurance organise the swimming and I joined the coaching team, coaching junior and adults on a Wednesday evening throughout the Summer.
The pupils are an adventurous bunch and it didn't take too much encouragement for them to 'give it a go'.  Over 12 of the pupils swam regularly and a few parents and teachers too.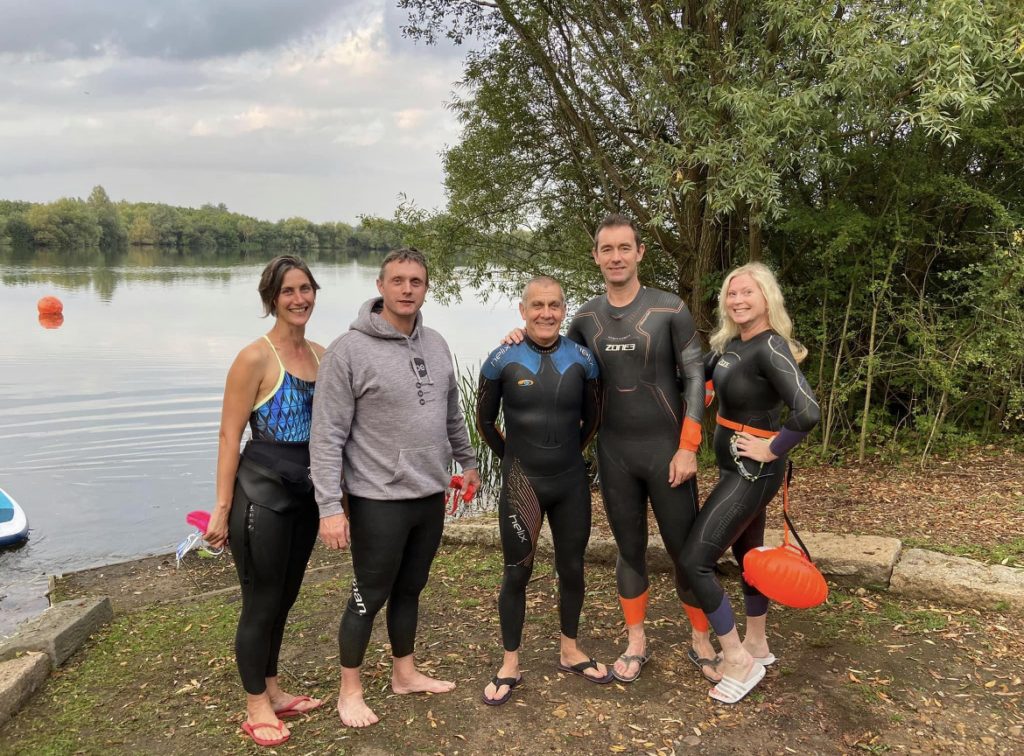 Open water swimming at Luxborough Lake has taught me so much about swimming, but has also about myself. I was scared of deep water before I started swimming here and after two or three sessions that fear had completely gone.  It showed me that throwing yourself at something is one of the best ways to conquer something. The level of swimming in the junior section also pushed me to become a much better swimmer because there were National level open water swimmers training there. It pushed me outside my comfort zone, which was one of the main aspects I liked. Training here during the summer was one of my highlights. Thomas, Year 12
In June this year I was introduced to open water swimming at Luxborough Lake by Mrs Cheshire. At first I was a little nervous, wondering what it would be like, how cold it would be and what we would be doing. We went in and were told to fill our wetsuits with water and dunk our heads under to warm us up. We swam out about 25 metres getting used to swimming in a lake rather than a pool. Throughout the summer we swam further getting more confident and practised swimming around the buoys on the lake as you would in an open water race. The coaches were enthusiastic and encouraging, making it very enjoyable. By the end of the summer, we could swim round the whole lake, and I felt confident and happy with what I had achieved. Martha, Year 8
Over the summer holidays, I started going to open water swimming at Luxborough lake. I really enjoyed it, because it was completely different to being in the pool. Now that I have had this experience, when I swim normally I feel confined and much lighter, because wetsuits are heavy! When I went for the first time, it was quite scary as I wasn't able to see through the water. Also, when I got in it was really cold, and I had to put water down my wetsuit to keep myself warm. There were many other challenges, like learning how to look where I was going, but as I progressed I got used to it and it became more fun. When I get out of the water, I always feel good about myself for going and enduring the cold. One of my favourite things about it is that sometimes you get to see the sunset and enjoy nature while swimming. This is one of the best things I did all summer, and I can't wait to go again soon! Esha, Year 8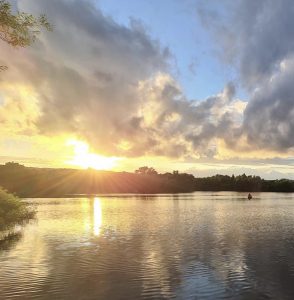 Open Water Swimming was one of the highlights of my holiday (even though it could be very cold!). In this course we had great instructors and did lots of drills to help us get used to the water.I know what you're thinking, "Did they really go swimming in a massive lake with massive fish in it?" Yes. My kickboxing instructor had said that one of her friends went fishing there and the friend said, "There are massive carp in there… Are you sure it's safe for the children to be swimming?" Here are some quotes from other Prep swimmers from Bancroft's that went:

"It's hard to know who it was that kicked you in the face…"

"So… COLD!!!"

"Amazing"

"I loved the experience"

I would recommend this to anyone who enjoys swimming and is good at not hyperventilating when you are freezing cold!!

Hopefully we'll be seeing you next summer at Luxborough Lake! Nell, Year 6
BeEndurance (you can find them on the link below ) organise the swimming at the Lake and have continued on a Saturday morning for winter swimmers. Wednesday evening coaching will resume again in the Late Spring 2022.
Safe to say, we'll be there!!!